We're proud to take the time...
The Cummings Family has specialized in homemade, hand-dipped chocolates for over 80 years. With recipes handed down through generations, special attention is given to the creation of each piece - to create an individual taste sensation truly worthy of the term "gourmet."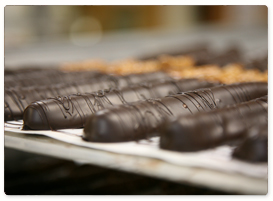 In comparison to today's mechanized candy factories - C. Kay Cummings chocolatiers are an increasingly rare breed. In our Salt Lake City kitchens you'll find some of the last of the Valley's talented chocolate artisans - each workday working their magic with the very finest ingredients available from all over the world.
Our famous assortments feature the finest chocolate coatings that are specially blended to complement our rich buttery caramels, delicately flavored cream centers and fresh, whole roasted nuts. Each assortment is carefully created for balance and selection. You're bound to find your old favorites and maybe even a new one!
Our original thin mint chocolate sandwiches, Trafalgar Squares, are handmade from richly blended chocolates and natural mint flavors. Many a Salt Lake native has fond memories of the treat of a thin chocolate mint sandwich from C. Kay Cummings. Today, hotel and cruise guests from around the world know our delicious mint sandwiches as a little pillow treat from their hosts - as we ship them right from our kitchens to companies all over the world.
Even more modern additions like layered caramel apples or dipped pretzels use the same traditional methods and ingredients that sets C. Kay Cummings Candies apart from the rest. A difference you can taste and appreciate with each delicious bite.