C. Kay Cummings Candies ~ Salt Lake City Store
Our candy store is located adjacent to our kitchens on 33rd South. Here you'll find all of your Cummings favorites as well as tons of seasonal treats and special gifts you won't likely see any place else. We look forward to seeing you soon.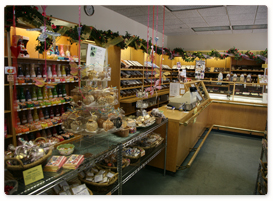 STORE HOURS
Mon - Fri 9:00 AM - 6:30 PM
Sat 9:30 AM - 5:30 PM
(Jan/Feb/Mar/April/May/Sept/Oct)

SUMMER HOURS
Mon - Fri 9:00 AM - 6:00 PM
Sat 10:00 AM - 5:30 PM
(June/July/Aug)

All major credit cards accepted.
ADDRESS & MAP
2057 East 3300 South
Salt Lake City, UT 84109-2636
Tel: (801)485-1031
Fax: (801)484-1031
Toll Free: 1-800-456-1031
To request a free catalog call us at 1-800-456-1031 or Email Us