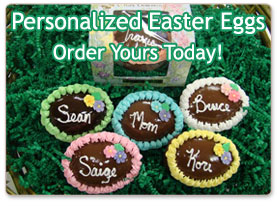 I can resist everything except temptation."
-Oscar Wilde
Fine Chocolates & Candies Since 1938
If you have a sweet tooth for fine quality hand-made, hand-dipped chocolates - to coin a popular phrase, "this is the place".
For generations, families in Salt Lake City and all along the Wasatch Front have known that at C. Kay Cummings Candies you'll find dozens of wonderful handmade creations that you won't likely find anywhere else in the world. From rich hand-dipped chocolate around lucious centers made from Cummings handed-down family recipes, to seasonal and holiday favorites like carameled apples, custom Easter eggs and of course special Christmas treats.
Featured on Good Morning Utah
Don't miss the most popular chocolate treat of all,
the original handmade thin mint sandwiches, Trafalgar Squares
available in dark and mint chocolate layered over delicious flavored chocolate centers.
Browse our online catalog chock full of the most popular chocolates and candies - each selection handmade right in our Salt Lake City kitchens. For personal assistance, please stop by our store or give us a call at (801) 485-1031.